Vikas Malhotra (StartUp Hub Poland): My first advice to the founders: Don't raise investment too early.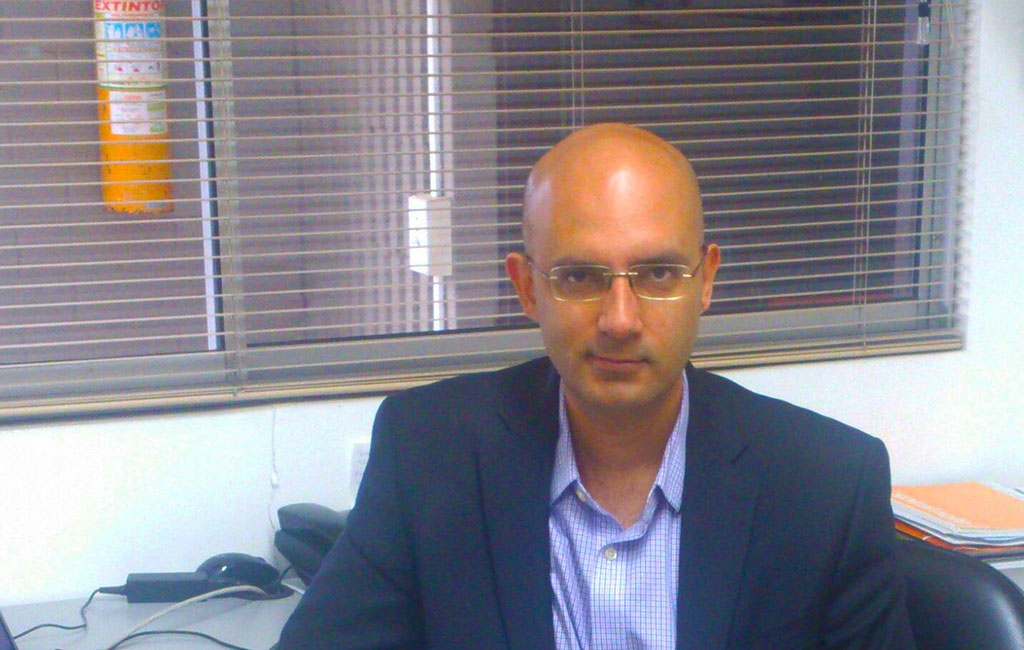 Vikas Malhotra is Chief Strategy Officer at StartUp Hub Poland. He switched track to the non-profit sector in 2013 after Masters at Stanford that followed 11 years in the for-profit technology industry in heading operations, international expansion and business development roles across the globe: India, Colombia, Brazil, Mexico and Hungary. He is constantly trying to open new geographies for the Polish entrepreneurs.
---
How it all started? How did you decide to enter the venture investment business?
I spent 11 years in the corporate world and, frankly, got tired. I was spending my time working so much, I was getting promoted, I was getting money – but I was not getting anywhere. I decided to do something different with my life, something more meaningful. To discover what "meaningful" means and what should I do with my life I earned my MBA from Stanford University, it's called MS in Management, and I took various courses to figure out what I want to do next. And everybody was doing startups and venture capital there because Stanford is a birthplace of these concepts. Startups and VC, as I thought, wasn't something that I wanted to do, so I conscientiously stood away from that. But I took courses in almost every field, especially emerging countries related because I knew that I'm not going to stay in the US or go to the UK or somewhere like that, I'm going back to countries that may need my help. After Sandford, I decided to practice my ideas, and the first break I've got was in Colombia, South America. I was working with SMEs there. I was consulting one medium business which was losing money, trying to make it profitable. This was a store chain, and I put my efforts into making it more computerized, more tech-savvy so that this business could compete in this world. Also, I helped one NGO to rely less on government grants, helped them to become profitable as well. I liked my work immensely. While I was in Colombia the CEO of Startup Hub Poland contacted me, asking for some consultations. When I finished my work in Colombia, I joined them as a mentor – first as the startups' mentor, then full time as Chief Strategy Officer. For me, a startup is a means for developing the economy of any country, and VC is an enabler. Startups are not only creating new technologies or Innovations but also are creating jobs. Poland is a perfect size for me as a country – not too big, not too small. It's also quite a developed country to try my ideas. You can't create another Silicon Valley in the new place – you have to create a new idea based on the country you are in. We want to develop a new ecosystem here, in Poland, not just try to copy-paste the Silicon Valley.
You are a graduate of GSB at Stanford. So many successful venture capitalists came from there. Why?
When I was at Stanford GSB, there was a culture of entrepreneurship, so a lot of people from GSB Stanford go to set up their own company. They are not satisfied with just working for someone else. I don't want to say that all of them have great outstanding ideas but because of their training at Stanford, they are able to identify some market, and using their network they're able to get help with setting up a company, identify the right business model, get mentoring. More importantly, they can get funding. If you are from GSB and based in Silicon Valley, you have the advantage of getting funded in millions of dollars very quickly – even if your ideas are not really out of this world, just normal ideas. It's not that easy, but people have distinct advantages – in training you get, in the way of thinking you learn, in the network you get, and in the VCs that surround you.
The organization you work for in Poland is a non-profit organization. What is the difference between for-profit and non-for-profit VC?
The entire concept of VC is based on for-profit, and when they invest in any startup, they are looking not for 20% profit on their investment, but 5x or 10x multiplication. Also, they are not looking at the revenue figures, but rather at how quickly can a company exit. We are rather a startup accelerator and ecosystem builder. There are two ways to do it – for-profit and non-profit. We cannot get too much here, because we are not really VCs, we're more like the connectors: we invite startups, mentor them, and then connect them to VCs and corporations to make them grow. And we have some success stories. Many other accelerators take some equity, so their business model is based on the future value for startups. We use another model: sometimes our programs are paid by the startups, sometimes they are paid by the government. The idea is not to make a huge amount of money, we are more interested in a growing number of startups entering our programs that will succeed afterward, having profitable businesses, raise subsequent funding, and so on.
What was the most unusual startup you ever supported?
There is one, founded by a Polish guy who lives in a small town close to Warsaw. He is a severely handicapped person, suffering from cerebral palsy. He's always in his wheelchair and he can't even breathe properly so he's always on a ventilator. He founded a startup to develop a dictionary, certain online tools, and a keyboard to help disabled people use the internet more easily. This is an AI to help with typing, so people can communicate more easily. And it is a good quality solution. And that guy actually won my heart. I was his mentor. He's having difficulty selling it very quickly, he is going strong. And he didn't give up: he enters competitions, wins them, peaches VCs. I hope, he will succeed one day. The other one is the guy who brought a startup from Silicon Valley to Poland, looking at it as an R&D center. The reason is that Silicon Valley is becoming more and more expensive: to hire a good developer there may cost you $250K while in Poland you may pay, like 10 times less. What happens with most startups when they come to Poland, is that it's difficult to do business here immediately, it takes some time, some patience. I am a foreigner and I know that it's not easy to win here. A lot of startups come were quite frustrated by this and left. This guy is still going strong, he hired local people and he is still trying to win some business here, after 18 months.
How startup teams usually find you? Do you wait for inflow or scout for interesting ideas and perspective teams?
When we run programs, we rely more on outbound marketing, because inbound is not enough. In Poland, the demand for foreign startups is very high, because there is not too many startups produced. So VCs are looking for startups and people like us try to help them to find the best local startups. And we use our social media and email campaigns to reach out good quality startups. You should be careful with email campaigns because of the restrictions in Europe prohibiting spam emails. We reach higher quality startups by direct personalized emails. For normal startups, we use social media campaigns, workshops, events to generate interest among the startups. We also think that the best way is to develop a community, an ecosystem. Five years back I did not understand what does community means and how it works. You know, startups usually don't have a lot of money and always struggle to raise some. They are very thankful to those who help them, even with advice or mentoring. We also publish good quality content on social media, discussing topics like B2B sales, which is very different from B2C marketing strategies, etc. All these help us create visibility of Startup Hub Poland in the community and creates an inflow of startups applying to our programs. It's not just pragmatism – we genuinely care about startups.
How many startup projects do you review per year?
I would say about 1200-1300.
How many of them get support from you?
Not more than 30. The startups are not only from Poland, but from all over the world – from all Europe, from East to West, from the US, and Africa.
What industries you are interested in?
It depends on partners that align with us. For example, if we are running a corporate accelerator program with PGNiG, this is the largest oil and gas exploration and production company in Poland, we invest in Energy. If we run a program for a bank, it will be FinTech, and so on.
When pitching works better – boring numbers or a show?
Again, it depends on the scenario. I have seen that in pitch competitions that some startups are really good at winning a pitch, and usually, that are the pitches that telling a story. Startups are based on technologies, and sometimes the technology is not that easy to understand. What helps is when the audience can relate to your story. Talking about pitching for professional VCs, is a different situation. There are a few fundamental things VCs want to see. They want to see your team, who does what, how balanced is it, how diverse, and so on. They want to see how big is your market, and those data should be credible. They want to know how are you going to apply the money you're asking for, how will this money be transformed into revenue, etc. – all these have to be clear.
How you select startups to support? What are your criteria?
Our #1 priority is that the startup should grow, it should get funding from VCs as well as deals from its clients. For B2B deals, we have some corporate partners on board and select startups according to both their criteria sector-wise and general VC criteria, like a good team, good business model, or big potential market.
What qualities you are looking for in startup teams?
First of all, we are looking for relevant experience, especially in the B2B space. We like when your team is balanced. If all founders have only a tech background with no real experience in sales or in finance, it's not a balanced team. Many VCs look at how long have you worked together, but I don't put too much attention to that. We are more interested in experience and balance within a team.
What are your red flags?
One is, definitely, the lack of experience. I should not be seen as somebody who discriminates against a particular segment, but if a person fresh from a University comes to me with a banking solution, it is a red flag, because I understand that he has no experience in this sector. If a startup develops an incredible new technology but doesn't know if the market needs this technology, if any, that's a red flag. You can't develop technologies just for sake of developing, you need customers. You should identify the market first and then developed technology that fits this market. Another red flag is too many competitions won, too many events visited, too many successful pitch days, but no real clients: you need to have clients already when you come to me because startup's job is to sell, not to win pitch days or visit conferences.
What is a fair percentage of ownership to take for investments?
People now are in a hurry to raise investments, but I think they should first hurry up to get clients and use that client money to support themselves, pay salaries, or pay for technology development. You may survive your first years on other sources of money, not on investments. When you raise investments, make sure that you have a client and you have a well-developed technology, and you are raising the investment for further expansion. In this case, you won't lose a lot of your equity to VCs. I think one should not give up more than 5% in the first round, and if you did everything right, you won't lose more than that. If you're giving away 15% at the seed round, that's a lot, you're selling yourself to VC. Take your time, but lose less.
Has your VC approach changed after the COVID-19 started?
Not so much, because we can easily switch to the remote work. For us, physical presence is not absolutely important. We still are supporting foreign startups that come to us for acceleration programs and then go back home to work. Our mentoring sessions, VC pitching sessions, customer pitching sessions – all these can be done online. We don't have to see people sitting in the classroom to guide them. We can do everything online and we did it before because we were working with international startups. Only 1 factor has changed a lot – events, which are showcasing the startups, pitching competitions, and so on. Actually, I like this change, because pitching competitions are useless, it's a waste of time and effort for startups. I don't believe in pitching competitions! What I miss about events is that a chance to make new connections and meet new people.
But is COVID a threat or opportunity?
I believe that we all have made adjustments to deal with COVID-19, but I think, it's like winter. We all know how to deal with winter, may enjoy winter, but we are still waiting for spring and summer and you are enjoying it when it comes. Same with COVID-19: when vaccinations will happen and everything will open up, the word should go back to where it was because of the best quality interactions, the pitches, talking to clients, hiring new teammates – anything is done better face-to-face. Brainstorming happens and better ideas are generated when the whole team is in office. I was more productive at that time. We have to get back to normal – not COVID-19 normal.
Can you name the three most breakthrough startups in history?
Google was a breakthrough startup and it started as a startup. Facebook was a startup and Amazon as well. So, those 3 great companies were startups at the beginning.
The greatest startup failure?
WeWork was a huge failure not just for SoftBank but for the startup world. It happens a lot nowadays, when startups become stars based on the number of investments, but not on the revenue they produce. It was a loss-making startup year after year and was still raising more and more investment from SoftBank. It is still in the market, it got a new CEO, but it's struggling even in COVID time. It's not a fraud, like Theranos, but still a huge failure.
Are you satisfied with where you are now in terms of your career? Or, maybe, you would like to try something new to apply your knowledge and ideas to?
I am quite satisfied with what I'm doing and consider these years well-spent. I don't want to become a player in this game, though, and think of becoming a speaker or a coach one day to be able to talk more to startup founders and people surrounding them, like journalists, about what is really important. Community, journalists, and other startup people now celebrate investment milestones, like raising another $20M. We are not celebrating revenue milestones – nobody knows about that. But this is a sign that you are creating a good technology, that your technology is a good solution adding value to humanity and the business environment, and you're creating more employment. We should celebrate such things because that's where you create more value. I'm a small player, still, I would love to change the situation someday.
Your three pieces of advice to founders.
Don't raise investment too early. In Poland, it is difficult to raise initial investment to develop technology, but if you're bootstrapping, there is a way of getting some funding. Develop your technology and start selling – start selling quickly, get customers, get revenue, and then raise the investment. That's my biggest advice to startup founders.
About the Author