Find investors for your next round
Get a list tailored precisely for your startup
Unique matching
algorithm
Selects the most relevant funds
based on similar deals
29,659 investors in seed
and later rounds
A huge verified database of active
investors
Contact information for
decision makers
No need to search for contacts
elsewhere
Downloadable
spreadsheet
So that you can work with the list
from your computer
200+ industries to
choose from
To personilaze your search results
Prioritized list of
investors
Focus on the most relevant investors
first
The DATA you get
Download the list and be fully equipped for investor outreach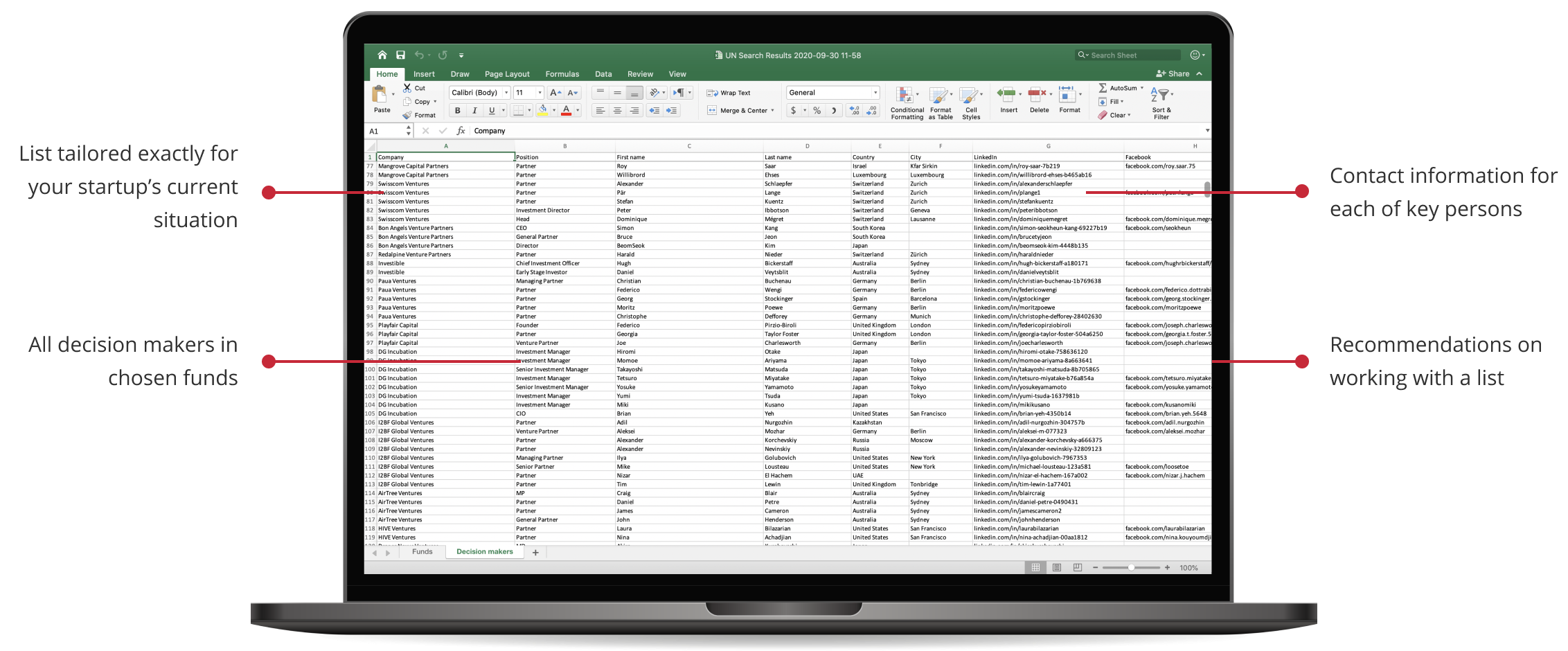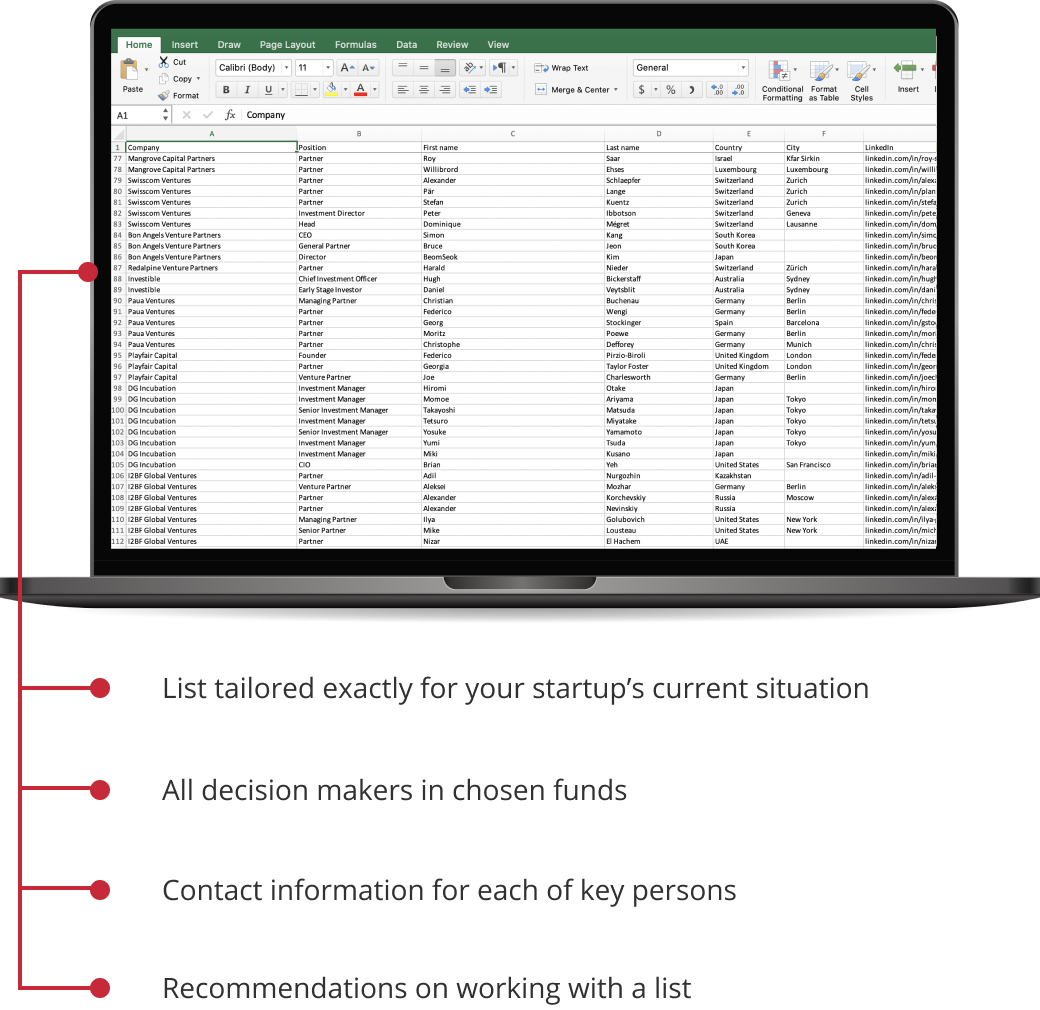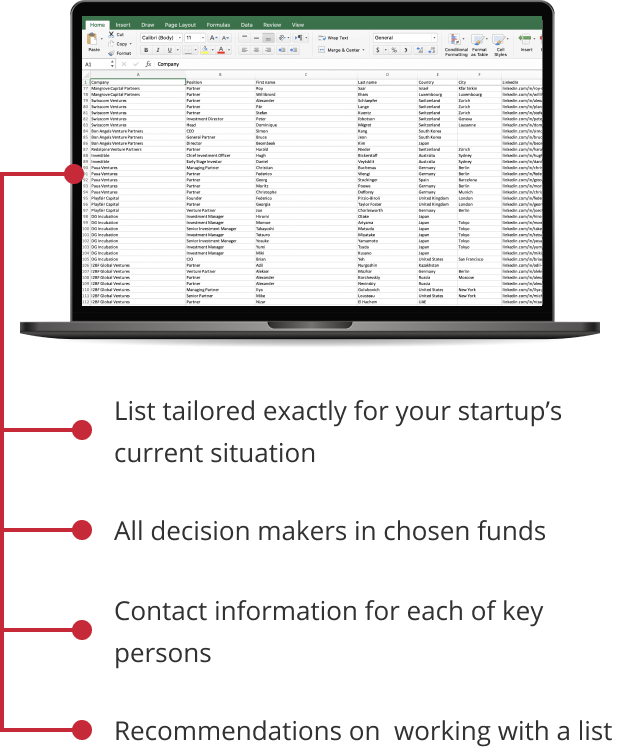 Discover investors that you would otherwise miss out
We build a big picture, and think outside the box when it comes to investor search. We suggest the funds investing in the neighboring industries when it makes sense. We also use advanced geo rules that include fund's office locations, key persons location and geography of portfolio companies. We give extra weight to distances that can be covered by car and by short flights to increase the chance of investment.
Focus on relevant investors
Your fiinal list of funds will be sorted based on the points awarded by our scoring algorithm. The most relevant funds will score very high on several criteria. Those 20-50 funds are the most important ones for you. Prioritize your outreach accordingly.
Answer simple questions about your startup
You don't need to guess what kind of fund you should be looking for. You never know for sure. Just answer questions about your startup, the ones that you know best. We will do the rest.
Our dataset
We use machine learning to collect and verify all the data.
Completeness of data ensures precision of the scoring algorithm
Key Persons
52377
+251
in January
Startups
47591
+98
in January
Deals
138099
+1512
in January
Where we get our Data
We use web scraping, semi-manual data collection and then fill the gaps with machine learning tools to
extract information from different sources
Press & Media
Connection to external approved databases
1
Funds & Startups Websites
Data from government monitoring agencies
2
VC Data Providers
Real-time tracking of press sources from VC world
3
4
Social Networks
Monitoring of all changes through web-spiders
5
Regulatory Filings
Tracking all relevant profiles with NLP
6
Researches &
Presentations
Enriching the dataset with help of analytics teams
47% of total money raised in 2019 were raised in cross-border investments.
We know this, and thousands more facts about fundraising.
We also know how to use these insights to find investors for you.
Ready to find your next investors?