Niklas Hebborn (Freigeist Capital): Have a big vision and look for investors with smart money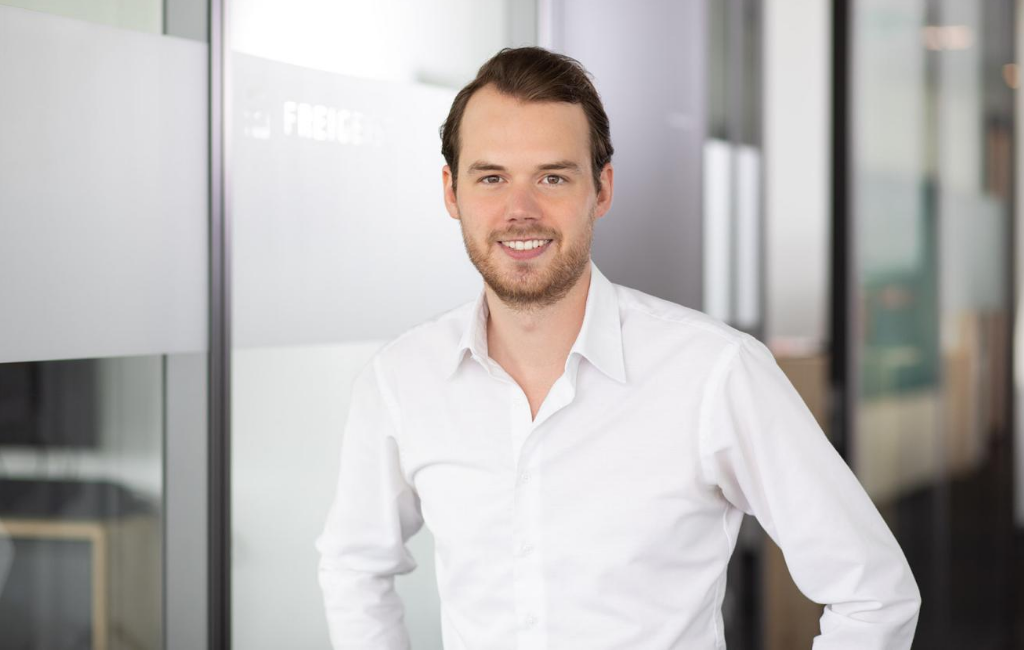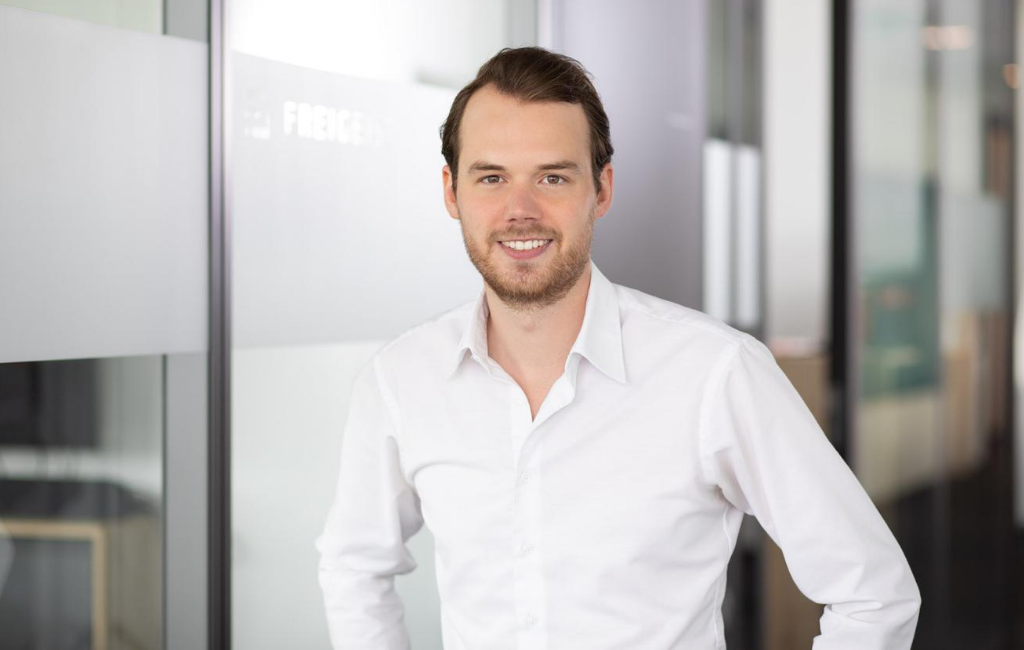 Niklas is an ESCP Europe Master graduate. He worked for digital and high-tech companies as a Roland Berger consultant and gained experience in Private Equity with Quadriga Capital. As a Head of International Business with PEC Group, he scaled up the company from 50 to 120 employees and accompanied the M&A sell-side process to Hilti AG. In his role as Junior Partner at Freigeist, he sources new deals and supports portfolio companies to realize their strategy.
---
How it all started? How did you decide to enter the venture investment business?
Freigeist was started by three founders. Frank, Marc, and Alex have been building up and investing in companies over the past 20 years. After selling their own company to Fujifilm in 2008, they wanted to invest part of it back into the startup community. When the investments started to pay off, they discovered their new business model. Then, Marcel and I joined as junior partners. What differentiates us from other VCs is that we invest our private money and that we have a hands-on mentality. We are a small, passionate team and are trying to support our startups in the best way possible.
What industries are you interested in?
We are specifically looking at deep tech companies.
What we are essentially looking for is an outstanding founding team, which has built up a technology over some years with significant intellectual property, patents, know-how, and everything that represents high technical defensibility.
Based on that, we aim to build up companies together. Compared to other VCs, which I would say are often more market-driven, we are coming from the technology angle and look at the product first. Ideally, this product is solving big global problems. We don't want to address local problems or tiny niche markets. Our plan is to invest in technologies that are globally relevant because ideally, we want to strengthen the European economy with our investments as well. We believe in a strong Europe and our long-term vision is to build up, let's say two or three tech companies with the potential to have more than 50 billion euros end valuation outside Europe. Because from our perspective, Europe has failed over the years to build up such significant companies like Microsoft, Amazon, Tesla, Tencent, and co. If Europe still wants to play a role in the global market besides the US and China, we need at least one or two of those big companies.
In our eyes, this is only possible based on really strong technology, which can come from various fields. We are not limited or focussed only in certain industries. We look at energy, we look at mobility. But we also look at classic artificial intelligence solutions. We are really broad and look at both hardware and software startup, which also differentiates us from most other VCs. We are lucky enough to have experience and expertise in both areas which gives us the freedom to look at any startup we see potential in and evaluate their technology.
For example, we are very interested in everything related to energy, its generation, management, and efficient storage – that's a big topic and it is really important if you look at the climate change and all the other problems caused by our current energy sources;
Another exciting field is mobility solutions. How do we come from point A to point B for long distances, for short distances, the fastest, most effective, and cleanest way possible? The transition from combustion to electric engines is a big topic at the moment. That's what we are looking at. And of course, everything related to software and artificial intelligence that has relevance in almost all industries from healthcare to finance and logistics.
Can you name industries you really like, yet will never invest into?
Not really, because almost every industry can be affected by artificial intelligence. We are even looking at companies that are doing quantum computing, 3-D printing, or bioscience. Basically, if we can understand the technology and find the technological advantage, and if we believe that the product addresses a big enough problem in a global market, we are interested. One industry we will probably stay away from is pharma tech because we don't have the experience to evaluate it properly.
What was the most unusual startup you ever supported?
I think that our most famous investment is Lilium Aviation. They are building an electrical take-off and landing jet, basically a flying car. It is located in Munich and was founded by four outstanding TUM students.
We were the first VC to invest in their company as a seed investor back in 2016. Right now, they have over 500 to 600 employees and an evaluation of over 1 billion euros. That was definitely the craziest investment we have done so far because these founders pitched us a flying car back when they were still considered Science Fiction. The idea is to offer a means of transportation between cities, which is fast and sustainable. The jet can fly over 300 kilometers per hour, has a range of 300 kilometers and, due to its electric engines, is CO2-neutral. Lilium was a huge bet back then but it is definitely our most successful investment today.
We also invested in Kraftblock, a large scale energy storage. In the long-term, we need to redesign the energy market, because when we increase the amount of renewable energy, supply is going to be more fluctuating since you cannot control it the same way you can with coal or gas. That is why we need storage not only for private homes, but also on a really large scale for our energy network. The good news is that scaling up will make it cost-efficient. That is the idea behind Kraftblock.
Another investment of ours is Hardt Hyperloop located in the Netherlands. And then there's EnduroSat, a Bulgarian space startup that is building nano satellites. As you can see, we have quite a big range of investments in transportation, mobility, energy, and space. Those are the areas where the big global problems lie, that's why we like to invest here, even if there's a higher risk. We also have more classic software investments, like Smartlane, a company that uses AI software for route optimization, or Xentral, an ERP system. Like I said, our main focus lies on a strong technology, which you can find both in software and hardware companies.
What geography of companies are you interested in?
We are focused only on the European market and are screening only European companies. Of course, if something pops up outside of Europe, we are open to have a look, but we are not actively looking for it. We are not limited to EU countries only. We are also considering Eastern European countries, like our Bulgarian startup Endurosat. I think there is a really strong potential there. They are really technical oriented people and we like that. If a company is coming from an Eastern European country, we are definitely looking at it. Right now, we need to build up our network in these countries, but we are interested in investing in similar companies.
At what stage of the company's development are you investing?
We enter in the seed and pre-series A stage. We like to be the first VC ticket.
How big is a check you usually issue?
Our investment starts from 500,000.00 up to 2 mln euros, but the average is 1 – 1.5 mln euros.
What are the requirements for startups as an investor?
As I mentioned, technology comes first. We don't invest in something that can be easily copied. We need strong technology, based on patents or other intellectual property, that provides an advantage big enough to give the company a kick-start in the industry. If that's not given, we don't invest. The team is also super important. We want technically oriented founders, ideally combined with business people. In the beginning, technology is the most important part, but after all, it's about building a company. Even with excellent technology, you still need certain skills to build a company around it, like hiring the right people, fundraising, marketing, and so on. That's why we are looking for diversified teams that bring both technological background and business skills to the table.
However, if a team is building strong technology and has the right mindset to build a company, we are most likely willing to give it a shot and support with our business expertise. It's different when you have to deal with researchers though since they are usually only focused on developing their technology, but not on building a company around it.
What percentage of ownership of a company is fair to take for investment?
It always depends on the parameters, but we usually take something around 20%, which in our case I think is fair because we bring significant value at the stage we invest in. For the first 12 to 18 months at least, we are working closely with the founders to build up the team, open up our network for future fundraising rounds and help with things like product roadmap development and brand building. When we invest in a company, our investment isn't the most valuable thing we bring to the table. It's our experience and our commitment to building up your company with you. We don't write a check and then call once or twice a month, we are on the phone with our founders on a daily basis, tackling problems and finding solutions.
What do you want to see in the company's product?
You need to find out if a certain product has a market fit. In the end, you can build a great technology and product, but if the customer doesn't need it, they won't buy it.
The best proof for investors to see if your product has a market fit is if you are actually selling it. Even if it's not on a large scale when we are investing, we ideally want to see at least a pilot project or a general demand for a solution. In terms of product, you want something scalable, something that works on a small scale but can grow with its demand. If you want a chance at building up a globally relevant company, you need a scalable product.
What qualities you are looking for in teams?
As I mentioned, the team is super important. What we are looking for in teams is a combination of brilliant tech people who are in charge of the technology and product, and solid business guys who are capable of building up a company. To us, that's a perfect match. You do not always find that a team is strong in technology and business, but that's something where we are also actively involved. When we see that a certain skill is missing in the team, we can jump in and help find the right talent.
It's perfect if you already have a tech and a business part in the founding team from the beginning. Otherwise, our partners can jump in and fill the gap for some time. For example, if someone is missing on the financial side, we can help out for a while. But in the midterm, we are focused on hiring the right people. I would like to stress that we need a strong technical person already building a product because that's our key focus. If the founders come from the tech side and the business side is missing, we can solve that with a few key hires. But if founders come from the business side, and they don't know how to build the product, that's a deal-breaker for us.
What is your due diligence procedure and how long does it take you to cover the whole way from the first meeting with founders to contract and check to sign?
We can be really fast because our investment committee is here in Bonn. We don't have external people whom we need to ask for permission because we invest our own money. This is what makes our process significantly faster. We can invest within six to eight weeks from getting to know a startup and entering the due diligence. Sometimes, signing a contract takes a bit longer because we really want to understand the market and the product, and also be able to bring value to the company. The most important part for us is to understand and to be able to help. The usual process includes a first meeting or video call, followed by a technical call together with our CTO to understand the technology. If we are still considering an investment after that, we have a personal meeting with the team here in Bonn where we all come together and do 3-4 hours of workshops. It helps to get to know the founders personally as well as getting to know the problems of the company. We need to understand on what challenges we need to work together.
After that, we normally make an offer and send over a term sheet. And then we start our due diligence. We do reference calls with companies or customers and talk to experts to understand the market or the product better. We then do the legal due diligence, to look for red flags and things that are missing. After that comes the process of legal drafting or contracting. That process alone can take up 6 – 8 weeks.
How many projects do you consider per year?
We take a look at approximately 10,000 companies a year. From those 10,000, 200 – 300 make it to the next stage. In the end, we usually do no more than 2-3 investments per year, because firstly, a lot of parameters have to come together in order for us to invest but more importantly, we really want to have the time to support our portfolio companies in the first months after the deal is done.
How startup teams usually find you? Do you wait for inflow or scout for interesting ideas and perspective teams?
We have an application tool on our website where everyone can apply, and we also have a strong network with universities and research institutes. Our CEO is quite famous in Germany. He was on the German version of Shark Tank – a TV show for startups. And now he has a really broad network. That's why we get introduced to a lot of deals.
But we are also actively looking for companies. We keep an eye on all the accelerator programs and such and if we see something of interest, we actively reach out to the company.
What conferences do you find really useful?
I would definitely recommend some international big conferences like Slush in Finland, NOAH in the UK, and sometimes in Germany, as well as Hello Tomorrow, in Paris. The latter is really focused on deep tech but that is ideal for us. Going to conferences to engage with new people and companies is always a good idea. You can meet new customers, investors, and build up a network.
What are your red flags?
If the technology is not strong enough, or we feel that there's a lot of competitors, that is a red flag for us. Also, if the founders don't have the right vision or the right motivation to build up a company, we stay away from an investment. We want to help build up big companies, so technology and team are crucial. And so is the market – if the total addressable market is too small or the product is too niche-oriented, that's another red flag for us.
What are the most common areas of weakness in startups?
There are a lot of products without an actual market fit out there. In the end, if no one is buying your product, that is a problem. So not having a product market fit is actually a very common weakness. Not having the right people on board can be a weakness as well. I can't stress this enough: HR is key.
There is always a chance that your initial product version needs to be updated. A startup basically needs to be ready to pivot the business model and the product at any given moment, or at least to adjust it to new conditions from the market and new customers. So being set on your initial vision and not listening to what the customer wants can also be a weakness.
Have you ever rejected a startup and then regret it?
Yeah, for sure. We are not following them closely, but there are definitely some cases in which we didn't find a deal and later the startup found funding from someone else. In a few years, we might hear from them again because they'll have become super successful. A good chance for us to learn from our mistakes.
Has your investment approach changed after the COVID-19 started?
Nope. Business as usual.
Generally speaking, is COVID a threat or opportunity?
Generally speaking, it's a threat. A lot of companies struggle to survive. If you have companies that are focused on travel, holidays, or big events than of course there's a high risk that they won't make it. Fortunately, most of our companies are not in this segment. So, we are doing fine for now and will hopefully even get the chance to be the first to invest in a few very exciting companies, because many investors are not as active due to the current situation. So there's an opportunity but in general, to our economy, it is more of a threat.
Can you name three most breakthrough start-ups in the history?
I think Tesla, Amazon, and Google are the strongest companies.
With whom would you rather prefer to work: Steve Jobs, Steve Wozniak, Mark Zuckerberg, or Elon Musk?
You missed one – Bill Gates. First, he built Microsoft and now he focusses all his time, money, and energy on solving global problems like climate change or missing healthcare. It's really impressive how, coming from software, he now gets involved in a lot of other stuff. This shows me that you can learn a lot during a lifetime and adapt to new situations.
Elon Musk is also really impressive, and he, as well, is active in a lot of industries. First, he built up PayPal – a software company, then Tesla, an electric car company. Two very different fields, and much like Gates, he's tackling a lot of different problems, humanity is facing right now. That's why I wouldn't go for a Zuckerberg, because Facebook may be connecting people, but it's not solving big global problems. I would go for Bill Gates and Elon Musk.
Are you satisfied with what you do, or do you think to apply your knowledge and skills to something else in the future?
It's definitely my dream job. I enjoy building up companies and supporting founders, who actually want to create something positive. That's what we are doing. We are looking at innovations that have a positive impact and it's super exciting. I am learning a lot about industries and technologies. At the same time, I really get to be hands-on supporting companies, hiring people, and bringing customers in, so it's a great mixture.
We are on a big mission to help build up two or three companies that have global relevance and in the long-term, something like Lilium could be one of them. Working with all those highly motivated people is super inspiring, and I am very happy about it.
What books/films would you recommend to a start-up founder?
'm reading a lot on Tech Crunch and Shifted.eu, where you can get good knowledge about startups. There are a lot of startup books, for example, Zero to One: Notes on Startups by Peter Thiel, or Scaling up. There are so many books that I cannot choose one. In the end, I would always recommend diving deeper into your technology instead of reading yet another startup book. Understanding your technology and developing a cutting edge solution is the biggest advantage you can have.
Your three advices to founders
You need to be very sure that founding a company is really what you want. From my point of view, there's a lot of illusion about founding companies: most people only look at the very successful ones and think that this is how it's going to be. The reality is that it is really hard work. You need to be extremely persistent because there will come a lot of times when things are not going well.
So, be enduring, fight, adjust, adapt your product, and believe in your vision of changing something. You'll need the best people you can find. Remember, building a company is not a one-man show.
What is your favorite city in the world?
I love Munich. It is small, offers a high life quality, and is really technically oriented. However, Freigeist is based in Bonn near Cologne, because that's where the fund was founded and where we all live. Fortunately, Germany is not too big. You can be everywhere within one hour. But I think, especially for tech startups, Munich is the place to be.
About the Author